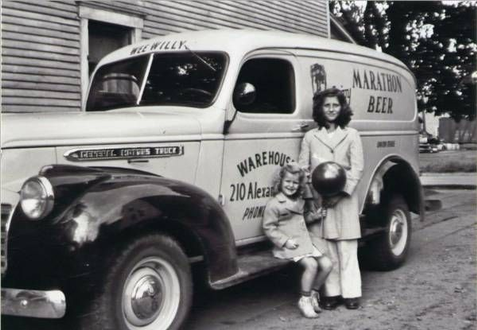 The history and photos were originally posted by Pete Kroll. Pete's father, Victor Robert (Bob) Krolikowski (Kroll) ran the Marathon Beer warehouse at 214 Alexander Street in Wausau, WI. Top Image - Early view of brewery from 8 scene Marathon, Wis. Postcard. Main Street looking North, this brewery burned down in 1912. Left Photos - all taken at Marathon City Brewery Wausau Warehouse Photo Left Top - Cynthia & Nancy Krolikowski c-1949 Photo Left Bottom - Victor Krolikowski & Daughter Nancy c-1949 Photo Right Top - Elaine, Nancy & Peter Krolikowski c-1949 Photo Right Bottom - Victor Robert (Bob) Krolikowski c-1949
Marathon Brewery Wee Willy Basketball Team.
Left to Right: First Row - Joe, Wally, Alex and Frank Szymanski.
2nd Row: Ray Szymanski, Ed Szymanski, Larence Wenzel, Bob Uekert, Bill Fischer.
The team won more than 500 games while losing 50 during the 1940's and 1950's.
Marathon Brewery Bowling team - probably from the 1950's.
From left to right, Joe Butala, Roger Hall, Ray Wilger, Roland Hall, Rudy Karlan
Graebel Produce, Wausau Wisconsin distributor of Tannenbaum Beer in 1933.
Beer truck on right with wooden barrels on top.
Marathon Brewery Tannenbaum Beer Hockey team from the 1940's.
If you can identify these guys, let me know.